Things you keep in mind when to want to buy a real traditional balsamic vinegar from Modena in US:
the bottle shape is like a drop and strictly required for traditional balsamic vinegars from Modena DOP.
there are three different types of TBV on the US market available:




1. red metallic cap = 12-24 years old from bottled under control of Consorzio Tutela
2. white egg-colored cap = 12-24 years old bottled under control of Consorzio Produttori Antiche Acetaie
3. golden cap = 25 or more years old (both Consorzions use golden caps)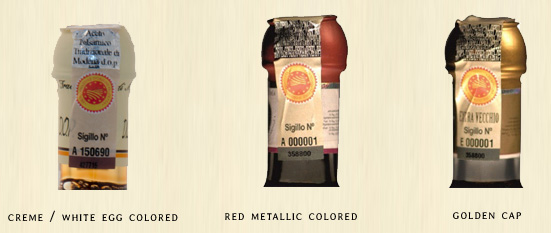 the label requires the name "Aceto Balsamico Tradizionale di Modena D.O.P."
bottles with a golden cap (25+ years) require the addition "extravecchio" on the bottle.
It consists only cooked grape must.
In case your are unsure: we will help you @ balsamic@traditional-balsamic-vinegar.com for verification.
The safest way to buy an original traditional balsamic vinegar is from the consortio himself or from an Acetaia based in Modena. The prices are really low, the the shipping to U.S. will cost about $35 to $40 + customs based on the total. This option is recommend for restaurants and other companies with orders over $300.
There are no certified retailers for this kind of product but a huge range of different qualities and also a lot of plagiarism out there. Also bottles sold on Amazon needs some minium requirements to get listed on Amazon. One of the requirement is, that the products needs a GTIN number - a kind of code for automated logistical processes. The code costs money and will be used for bigger charges starting from 1000 or more pieces. Traditional balsamic vinegar is no such product that is usually produced in quantities with 1000 bottles or more. The reason behind is that the barrels are very small and after 25 years you will get about 100 - 200 bottles out the barrel. The lots were to small to become a mass product. So companies selling TBV on Amazon are more likley bigger companies or industrial companies. TBV is made out of passion and mostly from small familiy owend Acetaie (vinegar producers) - they usually do not have the capacities to produce so much TBV to reach the minimum requirements to sell it on Amazon. So keep that in mind and support the real passion, buy directly from Italy or from one of the following sources we researched for you in U.S.:
Urbani Truffles -> they also offer the Traditional balsamic viengar from Reggio Emilia in tulip shaped bottled, also an original
Gustiamo -> ships from $7.95 in U.S.
Fiore -> from Maine
To be clear - here are some balsamic vinegars labeled as traditional balsamic vinegar but are NO originals - not D.O.P. / not P.D.O.:

Ask for ingredients (only cooked grape must allowed) and how long the vinegar was matured (min. 12 years) in the barrels made out of different wood types.